Routeplanner
Routeplanner
Cannot get your location.
Cannot get the route.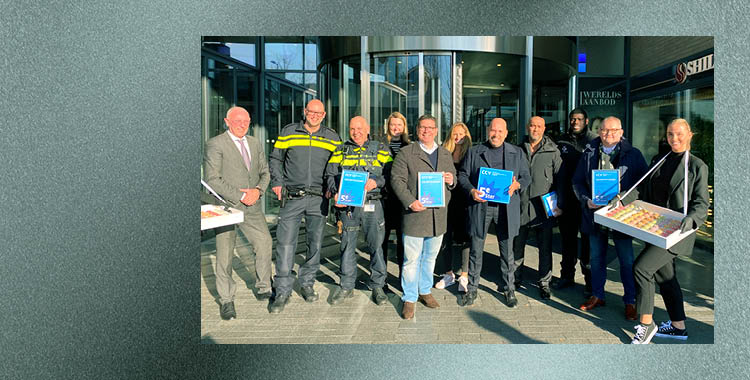 5e ster KVO
Receiving the 5th star on 8 March 2022 is a nice reward for the good effort and the work that all parties have continuously done in the past years.
Stickers with the 5th star have been placed at all entrances to Gelderlandplein. This makes it visible to visitors of Gelderlandplein, but also to entrepreneurs and employees, that Gelderlandplein is doing everything for a safe and clean environment and that the various parties, such as the owner of Gelderlandplein, Kroonenberg Group, the entrepreneurs of Gelderlandplein, district council South, police and fire department, are working hard to achieve this.
The festive ceremony took place at the entrance next to Shilla on the Willem van Weldammelaan.
Present were a.o. Lesley Bamberger (owner Kroonenberg Group), Gerold Mamadeus (shopping center manager Gelderlandplein, Kroonenberg Group), Sebastiaan Capel (chairman of the executive committee of Zuid urban district council), Marcel de Weerd (district police officer), Rob Sanders (team leader for the Zuid-Buitenveldert Basisteam), KVO group Gelderlandplein chairman Anouk Bartling (Zwartjes van 1883), Maarten Duijn (local security advisor, CCV), André Sprangers (Zwartjes van 1883, board member of Ondernemersvereniging Gelderlandplein), Andjena Chandhi (area agent Buitenveldert/Zuidas), Rosita Roosblad (Zuid urban district council) and Sophia Koehorst (Gelderlandplein street manager).
To celebrate the achievement of the 5th Star, two hostesses handed out macarons with the Gelderlandplein logo to Gelderlandplein visitors all afternoon.
Go back